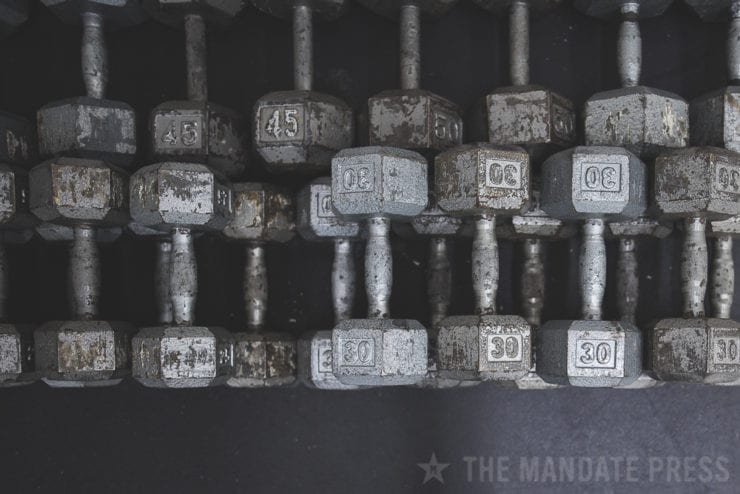 We finally went to the gym.
One of the many reasons we got the blog back up and running recently, was to highlight awesome businesses and individuals that we get the opportunity to work with. This post will go live as you're crawling out of bed and recovering from your raging NYE hangover. Therefore it seemed only appropriate to roll out this post about The Division Gym. We want to help motivate you to make 2017 a more productive year than you thought it could be.
The Division Gym is located in Murray, Utah, just a hair south of the 4500 South exit on I-15. It is there, in an unassuming west facing building, that you will find very motivated people that want to help you get motivated. Ben and I decided to pay them a visit on a brisk December morning just before the holiday break.
We met with Dylan Freed and Lisa Boshard (Co-Founder of Gym Jones) to talk about what The Division Gym has in common with letterpress printing… We have a lot in common.
"the details matter" 
The Division Gym exists to help people reach personal goals with highly individualized workouts. Because The Division doesn't have a specific clientele, they build their routines for each person that comes in the door. Available in both group and private sessions, they pay attention to the details because "the details matter" as Freed told us. The Division Gym not only focuses on strength and conditioning, but also injury prevention. Training isn't always about strength, sometimes it's about not getting hurt when you're not at the gym.
You won't find TVs lining the walls, just people and professional athletes pushing and improving their craft. They are low on distractions, and high on results. This sounds a lot like what we do at The Mandate Press. We sweat the details. Every project has individual aspects that create unique challenges for us every day… and Ben won't let us get a TV (really… we've asked).
If you get a chance, check them out. They will help you reach your full potential.
/Matt