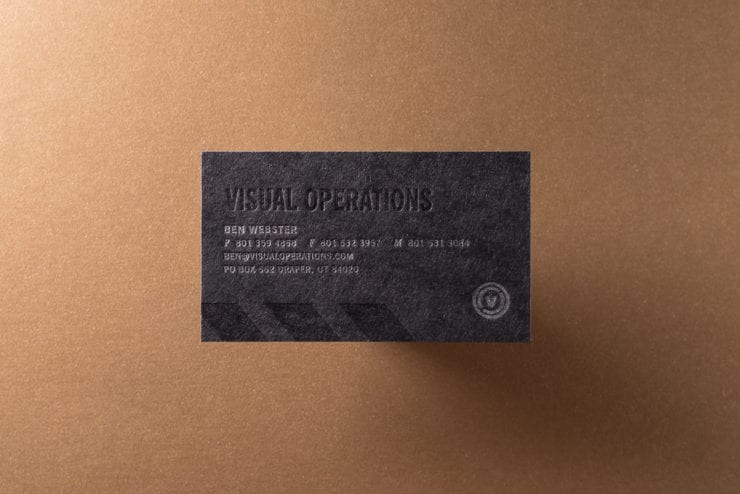 Black paper isn't going out of style.
The objective of this blog post is to help you design around the limitations of black paper. White paper is definitely the most frequently used paper color we see, but black is easily runner-up. Black paper does however, introduce some unique design challenges.
What? You can't print white on black?
Not white ink. We get asked a lot, and it just doesn't work (like you think it would). When it is pushed into the paper, it ends up getting absorbed by the paper and looking really faint and grey (SEE PICTURE BELOW). One of the ways to work around this are to use a white foil. Because foil sits on the surface of the paper, it always has a bright and crisp appearance without the risk of getting absorbed into the paper. Other printing methods we have used like silkscreen and engraving can be used with white ink successfully, because they remain on the surface and don't push the ink into the paper. It's worth mentioning that the below picture is exactly what the client wanted/designed, and took two runs of both white and red to achieve the final outcome.
What about other ink colors?
Okay, it isn't just white ink. Because letterpress printing utilizes a physical plate that is inked and pressed into the paper, ink colors have a difficult time remaining visible on a black surface. This is because they are partially absorbed by the paper and can't compete with color of the paper (SEE PICTURE ABOVE). Other than using foil like I mentioned above, there are a few exceptions to what ink colors can be printed and remain legible.
So… what ink colors can I print?
Metallics… that's about it. Metallic inks have an additional metallic pigment/flake that is suspended in the ink. When letterpress printed, this pigment/flake remains on the surface of the paper where it stays visible and legible. But wait! There's more! You can also print with varnish. Varnish is similar to blind, but creates a little more contrast with a semi-gloss coat.
You can still use any color of foil available on black paper. However, finding a foil color that matches your specs might be difficult or impossible. I know… your options might seem depressing. But when you're forced to keep design simple, you actually end up with better design.
/Matt