Request an Estimate
Custom pricing for custom projects.
Whether you need business cards, letterhead, wedding announcements, art prints or posters we can help you work out the best way to produce your paper goods. In our custom work we can produce almost anything you could want to letterpress, we also have specially priced $95 small batch cards you can order online, see the chart below to compare those with custom printing. Go ahead and get started filling out our estimate request form below.
All custom printing jobs have custom pricing.
Please fill out all the information the best you can to help us get your pricing quickly. Custom pricing starts at $295. We'll return your estimate to you by e-mail as soon as we are able.
Privacy notice: We won't add you to our mailing list unless you request it or share your info with anyone else, ever.
You can also purchase limited option, letterpress business cards for just $95 in our online store.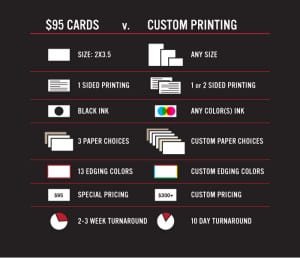 Quick Tips:
"Number of unique pieces" means how many different designs (or sets of business cards).
Example: 10 sets of business cards
"Quantity" means how many of each unique piece do you want printed.
Example: 5 sets of business cards at 500, 5 sets at 250
Black ink counts as a color!
A "blind" impression is a letterpress impression without ink. For pricing purposes that counts as a color too. This is often called a "blind deboss" too, though it doesn't show through the paper like a true emboss/deboss would. 
Emboss, deboss and foil stamping are all different than letterpress. We can do them, but they're more expensive!
Download a standard (3.5X2 in.) PDF Business card template that you can import into your design software.  BC_template.PDF
We will do our best to match or beat pricing for identical print jobs. Contact us for more details.
Questions
Didn't find the answer you were looking for? Check our FAQ and contact us for more info.
PHONE: 801.359.4868
 TOLL FREE: 888.373.7274