All custom printing jobs have custom pricing.
Please fill out all the information the best you can to help us get your pricing quickly. Custom pricing starts at $300. You can also purchase limited option letterpress business cards for just $95 in our online store.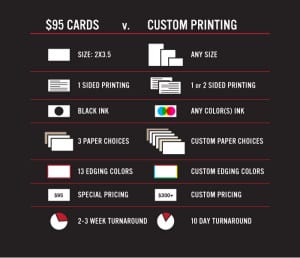 Quick Tips:
"Number of unique pieces" means how many different designs (or sets of business cards).
Example: 10 sets of business cards
"Quantity" means how many of each unique piece do you want printed.
Example: 5 sets of business cards at 500, 5 sets at 250
Black ink counts as a color!
A "blind" impression is a letterpress impression without ink. For pricing purposes that counts as a color too. This is often called a "blind deboss" too, though it doesn't show through the paper like a true emboss/deboss would. 
Emboss, deboss and foil stamping are all different than letterpress. We can do them, but they're more expensive!
Download a standard (3.5X2 in.) PDF Business card template that you can import into your design software.  BC_template.PDF
We will do our best to match or beat pricing for identical print jobs. Contact us for more details.