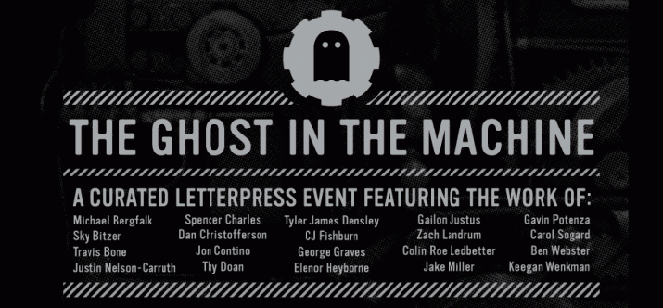 Hello, hello! Listen up, you don't want to miss this one! We're opening our doors this Friday, October 19th, for a special gallery event to celebrate Salt Lake City's favorite holiday and the arrival of SLDW 2012. Our first curated show, all letterpress-printed in-house, features a wide variety of our very favorite local and national designers, illustrators, hand-letterers, print-makers and tattooers. Specifically, these guys:
Michael Bergfalk · Sky Bitzer · Travis Bone · Justin Nelson-Carruth · Spencer Charles · Dan Christofferson
Jon Contino · Thy Doan · Tyler James Densley · CJ Fishburn · George Graves · Elenor Heyborne · Gailon Justus
Zach Landrum · Colin Roe Ledbetter · Jake Miller · Gavin Potenza · Carol Sogard · Ben Webster · Keegan Wenkman
Each artist responded to a common theme of THE GHOST IN THE MACHINE. It remains to be seen whether these artists will lean toward philosophical, literal or paranormal interpretations of the theme but one thing is certain: you really should be here in person to find out! So come on down, check out our revamped storefront and partake in a night of pints and prints with The Mandate Press and Cathedral Tattoo Company. Print editions of each piece will be limited to 60 and will go on sale online at 6:00 PM that evening and show attendees can grab one at a discount that night only.
Once they're gone, they're gone.
11×17 prints $25 online / $20 at show
8×10 prints $20. online / $15. at show